[WPL kind="0″ sf_locationtextsearch="Cambridge" sf_unit_price="127″ limit="12″ wplorderby="p.mls_id" wplorder="DESC" wplcolumns="3″]
Select Homes for Sale in Cambridge are coming shortly!
Cambridge, Ontario, Economic and Real Estate Overview
Cambridge is a City in Southwestern Ontario, with a population of more than 126,000 that spans an area over 112.86 square kilometres. The city is nestled on the banks on the Grand and Speed Rivers, providing residents with a colourful variety of parks and recreation activities. Not to mention a thriving technology and advanced manufacturing economy that continues to expand in several areas. In all, it's a great time to buy Cambridge real estate and a great place for anyone to call home.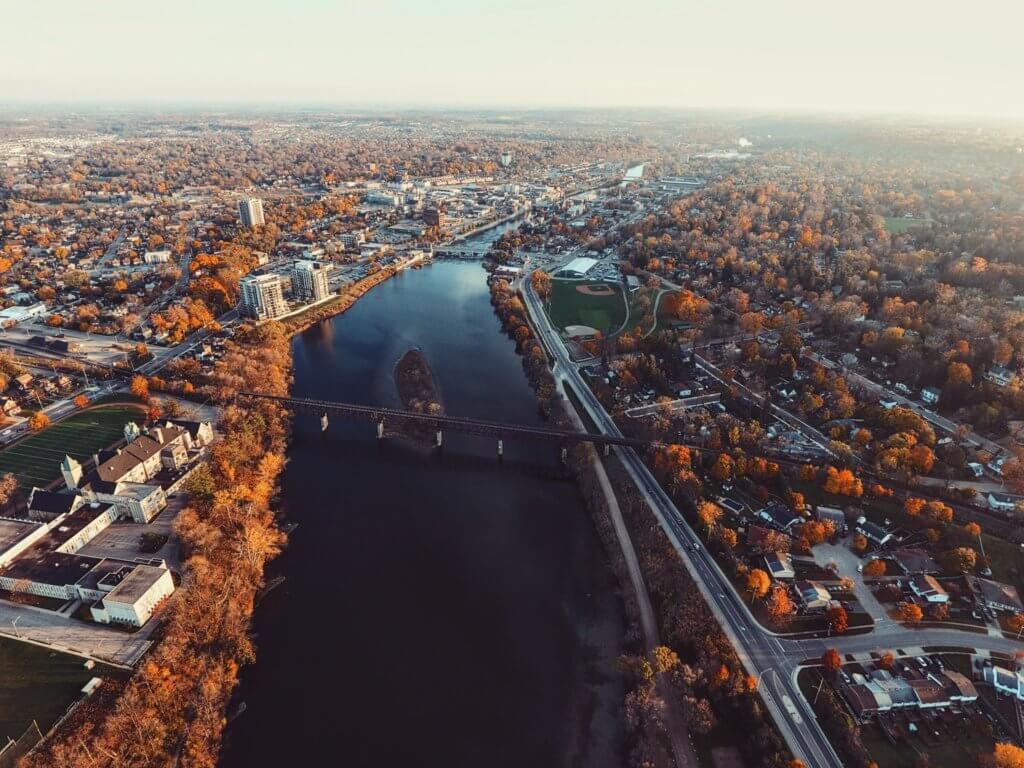 Cambridge Economy
In 1973 Cambridge was formed through the amalgamation of Galt, Hespeler, Preston, and Blair. Cambridge is one of the strongest geographical centres in Canada in terms of business, and also boasts the largest Chamber of Commerce in Canada with a membership exceeding that of any GTA city. This is in part attributable to the dense network of small business in Cambridge that provides a grassroots for its economy, and strength for the Cambridge real estate market.
The largest employer in the city which employs 4,500 people, is Toyota Motor Manufacturing Canada. Other key employers in the region are the space gear manufacturer COM DEV International Limited and Challenger Motor Freight Inc. Cambridge is part of the Technology Triangle of Canada (TTC), due to the number of science and technology companies in the area. Cambridge boasts an expanding economy and currently calls itself home to more than 10,900 companies. One of the largest sectors of Cambridge is manufacturing which employs 25%+  of the local workers.
Activities and Fun
Cambridge offers a broad array of artistic, cultural and leisure activities year round. Residents enjoy a continuous availability of festivals and community events, many of which are seasonal. Festivals such as Rock the Mill Festival and the Highland Games dominate the scene in the summer. The Cambridge Farmers Market voted one of Canada's Top Ten Farmers Markets, is also one of Canadas oldest started in 1830, is open year-round. Here vendors showcase the best of what local businesses have to offer. The Cambridge Center for the Arts showcases twenty-three exhibitions for local artists, it offers programs for kids and adults while promoting local artisan history and culture to the region. For nature lovers, there are over 70 miles of hiking trails, 16 golf courses and well over 120 parks in the city. The famous Cambridge Butterfly Conservatory gives visitors the opportunity to experience nature up close, great for photographers and nature lovers. Open year round it, it provides a unique venue for weddings and ceremonies. As far as shops and restaurants are concerned, there are many places in Cambridge to be discovered. Places like Cambridge Center, Preston Towne Center and Galt on the Grand offer great shopping.
Neighbourhoods
There are 4 main areas in Cambridge:
Hespeler
Is located in the northern part of Cambridge, it consists of two main districts, Silver Heights and East Hespeler. The cambridge homes for sale in this area are affordable, especially when compared to prices in other parts of the GTA. Hespeler is known as a family-oriented and culturally diverse part of town with many trails for people who love the outdoors. The downtown core of Hespeler, running Queen Street, has an availability of many shopfronts and restaurants for dining.
Preston
The Preston area has a good mix of residential and commercial areas. King Street has many restaurants to choose from. Here you will find the Preston Towne Center, an area full of shops. It is considered the centre of the city. Popular areas such as: Lang's Farm, Preston Heights as well as Hagey are also nearby. There are many available homes for sale in Preston sure to catch just about anyone's interest.
Blair
After Amalgamation in 1997, the vision for Blair was to maintain part of its village character. It offers residents a quaint, walkable, and self-contained area of Cambridge. In addition to village like areas, it also shares boundaries to one of the most popular places in this area is the Cambridge Center, a large shopping center with a variety of shops.
Galt
Located at the southern end of Cambridge is the old city of Galt. There are two parks in this area, as well as several schools, one of them being one of Ontario's oldest high school, 160-year-old Galt Collegiate Institute. This area also includes many heritage houses. Some areas of the region are East-Galt, Alison, Christopher-Champlain and Southwood. The Cambridge real estate in this area holds some of the Cities high-end homes, as well as quaint and affordable century style homes.
REAL ESTATE MARKET
From 2015, the new housing construction in Cambridge was estimated to be valued at $ 83.4 million. Specifically, this was for the construction of 429 new houses. In Cambridge, the standard price of a house is relatively cheaper compared to the standard price in Ontario. Galt offers  a mix of many single-family houses as well as condominiums. Many individuals in this City own their houses; however, there are still a good amount of homes available for rent. Real estate in Cambridge is projected to remain stable and grow throughout 2018 and 2019.
EDUCATION
Cambridge is the home of two school authorities which provide 40 primary schools and 7 secondary schools. The Waterloo District School Board and the Catholic School Board of Waterloo offer many options for children to attend public and Catholic schools. There are many opportunities for colleges and universities in and around Cambridge. Some colleges and universities include Conestoga College, which is unique in that it has many interesting technology related programs such as robotics and information technology.
Waterloo Region District School Board provides Public English education and operates 26 primary schools and 5 secondary schools in Cambridge.
Public high schools in the city include the 150-year old college the Galt Collegiate Institute, Preston High School, Glenview Park High School, Southwood High School, Jacob Hespeler High School.
Catholic education is financed by the public sector and run by the Catholic district school of Waterloo. The WCDSB has 15 primary schools and two high schools St. Benedict Catholic High School and Doyle Catholic High School in the city. Cambridge is also home to Père-René-de-Galinée secondary school, the only French Catholic high school in the region. There are also a number of private primary and secondary schools in the region. On the Riverside Silk Mill, the Waterloo School of Architecture campus is located in Cambridge. It is also known as the Tiger Brand Building. Inside is a theater, a gym and the Design at Riverside Gallery, one of the two public galleries of architecture in Canada. The School of Architecture is home to 380 students who live as well as study in the Cambridge community.
In all, Cambridge is an excellent place to call home. The Cambridge homes for sale and real estate available in the area are an excellent value, given proximity to the highway 401 – where only 10 minutes down the road in Guelph, homes are selling from over $100,000 more.